Eau de feu
Retour Projets 2015-2016

---
extrait Eau de feu
---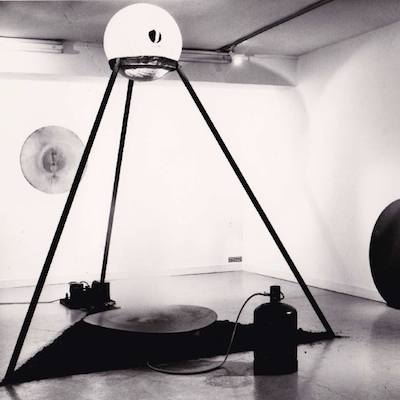 Spoutnick. réalisé par Clément Borderie
Eau de feu.(Edit)
Pièce électroacoustique réalisée en 1999, lors d'une performance à l'occasion de l'exposition Jardin secrets III, à l'hôpital de Charles Foix à Ivry-sur-Seine. France.
Une initiative de KP5, collectif d'artistes plasticiens.
Eau de feu
Une plaque de tôle d'un mètre de diamètre est chauffée à blanc tandis qu'au dessus, une sphère de glace réfrigérée s'écoule goutte à goutte au fur et à mesure que la plaque est mise en chauffe.
La performance consiste à jouer avec une lame d'acier sur la plaque dans le temps et le rythme de l'écoulement des gouttes d'eau jusqu'à la fonte définitive du bloc de glace.
De la main gauche, je réalise un enregistrement avec un micro stéréo. En variant ma position par rapport au centre de la plaque de tôle, je capte de subtiles variations harmoniques.
Jeu, enregistrement, composition : Alain Michon
Durée 11 mn15
Conception et installation : Clément Borderie pour KP5 avril 99
Microphone couple stéréo XY _ KM140 Neumann, AETA Mix 2000.
---
Eau de feu est sélectionnée au Festival—- ARS ELECTRONICA FORUM WALLIS 2016—- les 13 et 14 mai à Leuk/Haut-Valais/Suisse
---
Fire Water.(Edit)
Electro-acoustic piece created in 1999, and performed during the exhibition Jardins secrets III at Charles Foix's hospital in Ivry-sur-Seine. France.
An initiative of "KP5", a collective of visual artists.
Fire Water.(Edit)
A metal plate measuring one metre in diameter becomes white hot. Above, a chilled sphere of ice starts to trickle downwards, one drop at a time, as the metal plate heats up. The performance is made up of a steel blade playing on the metal plate, to the rhythm and tempo of the water dripping until all the ice is melted. Simultaneously, with a stereo microphone in my left hand, I make a recording whilst I change positions around the centre of the plate. This creates subtle variations in the harmony.
Composition, recording, performance by Alain Michon.
Duration 11 mn15.
Design and Installation / April 99 : Clément Borderie for KP5.
Technical equipment :XY stereo microphone couples - Neumann KM140-AETA Mix 2000.

---
Détails mise en chauffe de la plaque
---
Presse:
certification Forum Wallis
recent critic of forum wallis 2016 mentioning our works
Last changed (French time): 2020/04/20 16:58